How to get to the Rosario Islands?
Islabela is located in the Corales del Rosario and San Bernardo National Natural Park
1- Get to the Bodeguita Pier
IslaBela has a boat expressly and exclusively for our clients, which will leave them directly on the island that contains our hotel. To enjoy this service, they must appear at door number 1 of the Bodeguita Pier at 8:00 am, where a collaborator with a notice from IslaBela will be waiting to accompany them in the process.
Our clients have the space reserved in our boat; In any case, to confirm the transport reservation you can contact us.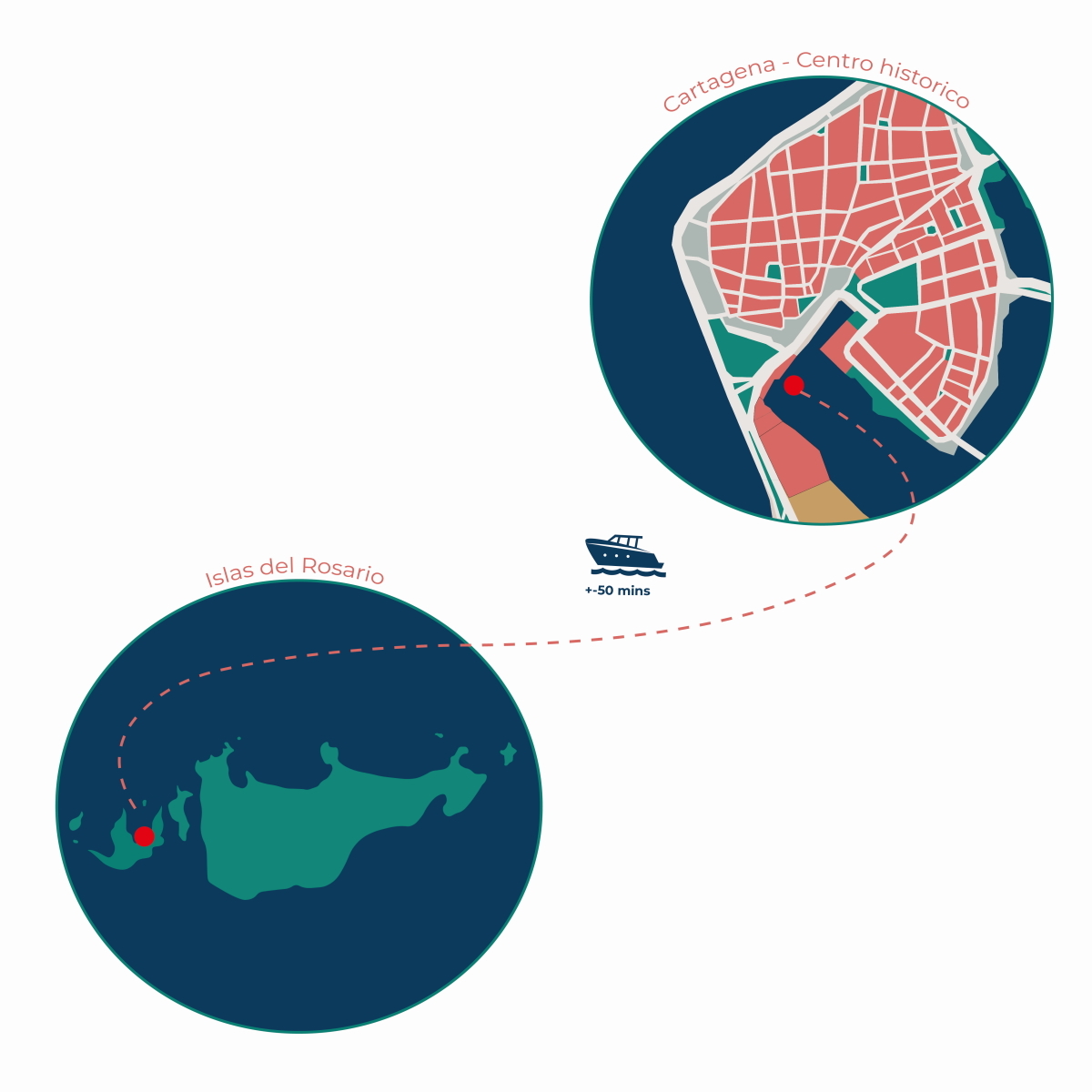 2- Pay the tax
Once you have arrived at Muelle de la Bodeguita, it will be necessary to pay a ZARPE tax in cash and in local currency.
This tax is operated directly by Corpoturismo and Parque Nacionales, and is used to preserve the ecosystem of the Corales del Rosario National Natural Park.
3- Relax and enjoy
After entering Muelle de la Bodeguita, your journey has already begun!
An IslaBela collaborator will be at your disposal to check in on the boat and accommodate passengers in the waiting area, where they can sit and take shelter from the sun while the departure time arrives.
During the registration, the same day of departure, the cost of transportation will be charged with IslaBela. If you have a reservation with us, remember that the space on the boat is already reserved, and it is not possible to buy transportation on the previous days outside of the Bodeguita Pier.
Buying transportation through one of the companies that operate this route, we cannot guarantee schedules and quality of service, and refunds will not be possible, unless an agreement is not reached with the company that sold you the ticket.
IslaBela's official transport can be purchased exclusively on the same day of departure when registering in the waiting area. In the case of making an accommodation reservation, the space on the boat for transportation will automatically be reserved.