Live a unique experience immersed in nature. Our facilities provide maximum privacy to our guests; the only thing you have to worry about is relaxing and letting yourself be carried away by the tranquility of this beautiful paradise.
For us the environment is very important, our facilities are equipped with solar panels and have electricity 24 hours a day.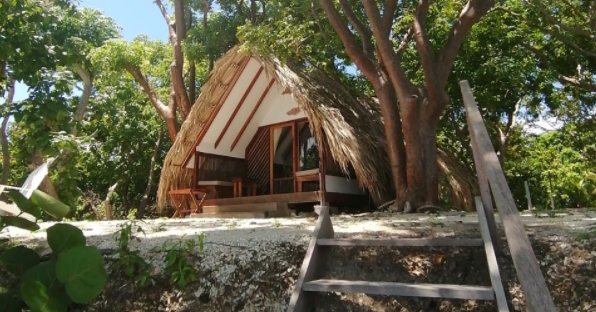 We have 4 cabins (3 doubles and one triple) with ocean views. All cabins are provided with a private bathroom, shower, fan and closet. A delicious continental breakfast is served daily.
It includes:
Reception and assistance at the Wharf of the Bodeguita
Hotel insurance
Welcome cocktail
Continental breakfast
Use of facilities (beds, sunbeds, tables, etc.)
Towels
Paddle board
Does not include:
Boarding tax (mandatory, 18,500 subject to variation, payable in cash in local currency directly at the pier).
Transportation by speedboat to and from the island (COP 60,000 per person per way subject to variation)
Other unspecified expenses or consumption (meals, drinks, etc.)
Additional activities:
Massages: 1 hour 100,000 COP, 30 min 50,000 COP p/p
Snorkel: 50 min 40,000 COP p/p
Panoramic tour: 1 hour 150,000 COP for 2 people
Oceanarium: ask to register on the boat
Kayak: 20,000 COP per hour
Enchanted Lagoon – Luminescent Plankton: 50,000 COP per person
We also have full board plans (lunches and dinners included), contact us for more information!
Important information
Starting point: Bodeguita Pier.
Our boat leaves around 9:00 AM, passengers have to arrive at 8:00 at the main entrance of the Bodeguita dock for registration. An ISLABELA collaborator will be waiting for you at the main entrance 1.
The entry of any type of food or drink is not allowed. A "corkage" charge will be applied in case of non-compliance.
Upon the arrival of the guests, each one will be assigned an exclusive space on the beach. Pets are welcome.
The boat back to Cartagena leaves at 3:00 pm. Depending on sea conditions, the Captaincy may change the return time (one daily departure).